Project: MiniMAX X Conference Logo
Tools: Creative Spark, Inspiration and Adobe Illustrator
This logo was chosen as the winner of Photoshop Idol's 2010 logo design competition. The goal was to design a logo for MiniMAX X conference that happens in conjunction with Adobe's annual MAX user conference. In the next several weeks I will be working closely with LA Adobe User Group's representatives on finalizing the designs and implementing them in a myriad of promotional materials.
Project: Intel® POP and Staff Training Materials
Tools: Illustrator, InDesign, Photoshop
Worked closely with other production artists, designers, and proofreaders to create a myriad of POP and staff training materials for Intel's new 2010 processors.
Project: The Economy and Cancer Health Disparities Logo
Tools: Illustrator
This logo was created for a 2010 Michigan Meeting on Economy and Cancer Health Disparities at the University of Michigan.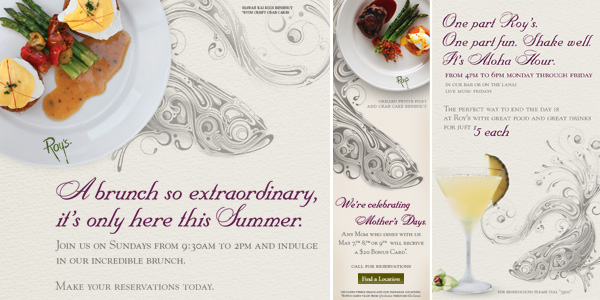 Project: Roy's Restaurant Promotions
Tools: Photoshop, InDesign
Links: View the website
Under the guidance of G&M Plumbing's creative director designed web and print based materials for Roy's Restaurant seasonal promotions.