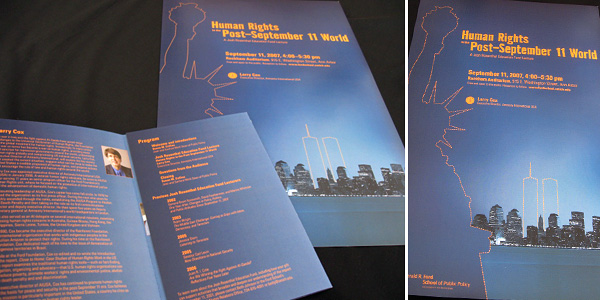 Project: Larry Cox Lecture Materials
Tools: Photoshop, InDesign
These annual lectures hosted by the U-M Ford School of Public Policy encourage new and deeper understanding of international issues. The goal for this particular lecture was to visually illustrate the topic "Human Rights in the Post-September 11 World." My interpretation of the topic was to show how with the loss of Twin Towers people may be loosing their freedom.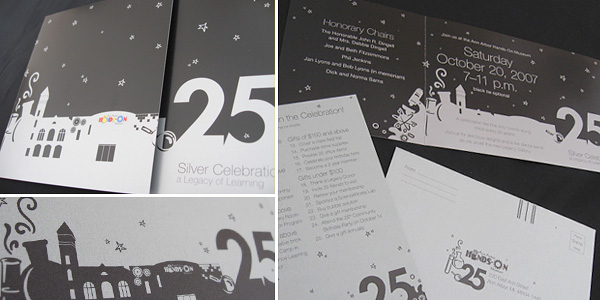 Project: Ann Arbor Hands-On Museum's 25th Anniversary Gala Materials
Tools: Photoshop, Illustrator, InDesign
For this semi-annual fundraising event I was tasked to create an "elegant and understated, but fun" invitation package. Striving to come up with concepts that would fit that description, and then make them fit into a shoestring nonprofit budget was quite a puzzle. The result was a 5/2 color invitation and the rest of the materials were printed in one color on silver paper.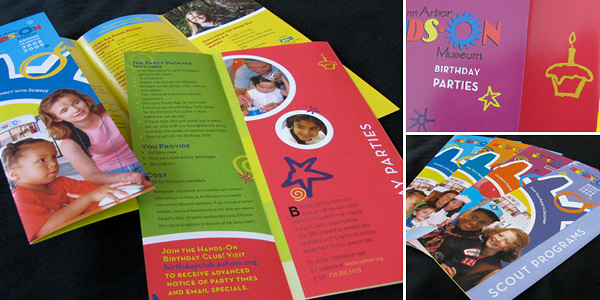 Project: Ann Arbor Hands-On Museum Program Brochures
Tools: Photoshop, Illustrator, InDesign
These promotional brochures for museum programs were designed to be presented as a series at conferences and in brochure racks, as well as be individually self-mailed. The most fun part of this project was developing a variety of color harmonies that would look bright and exciting as a series and a single piece.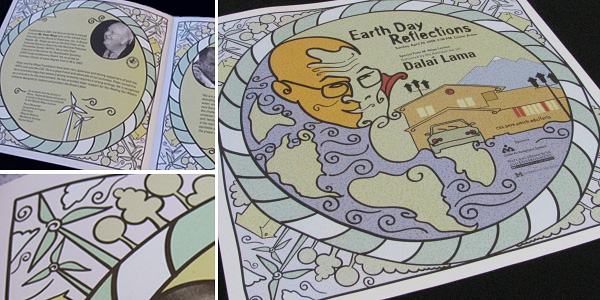 Project: Dalai Lama Lecture Materials
Tools: Illustrator, InDesign
I have been working closely with the Center for Sustainable Systems on marketing materials [posters, programs, invitations, ads, web banners, etc.] for their Annual Wege Lecture series since 2001. The challenge for this particular lecture was to co-promote the lecture and the newly launched "Learn It — Live It" website. The solution was to integrate some of the artwork from the site and use refrigerator magnets as giveaways at the event.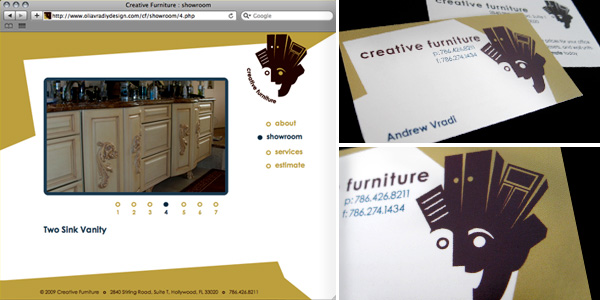 Project: Creative Furniture Identity Package and Website
Tools: Illustrator, CSS, XHTML, basic PHP, Dreamweaver
Links: View the website
Logo and identity package designed for a custom furniture start-up, including uniforms, vans and website.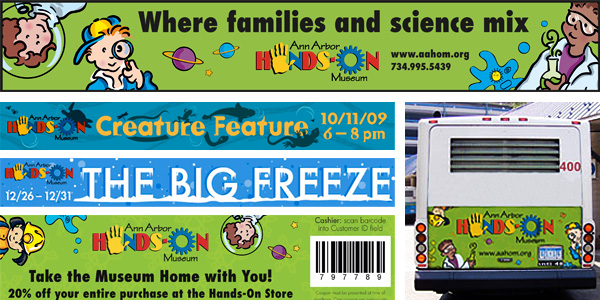 Project: Ann Arbor Hands-On Museum Print, Web and Outdoor Advertising
Tools: Illustrator, Flash [AS 2], InDesign
Links: The Big Freeze, Creature Feature
Bus ads, billboards, several print and web banner ads were developed to promote the museum and its annual events such as Creature Feature and The Big Freeze.
Project: dotmine group Identity Package
Tools: Illustrator, InDesign
After creating fun planner covers [view them on dotmine group's website] for Tanglewood Press, the two owners sought out my help in re-branding their company. There wasn't much time spent on choosing the name [all of the group's brands end with .mine], but a lot of thought and labor went into creating the dot.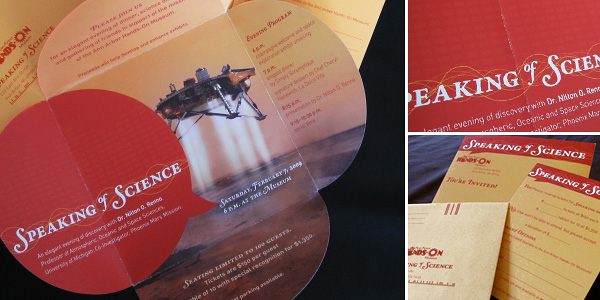 Project: Speaking of Science Event Materials
Tools: Photoshop, Illustrator, InDesign
The goal of this project was to create an event logo and invitation for a semi-formal dinner and lecture evening. Amongst a myriad of visuals to serve as a metaphor for the Mars mission probe — topic of the lecture — final decision was to use an unusual die for the invitation [square with four half-circle panels] to emulate the probe unfolding itself on Mars and enabling us to learn new things about the planet.